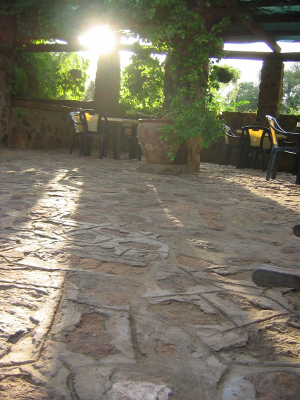 Tuesday – my weekly deadline for posting – approaches. I don't feel like writing. Can I just skip this week's post? Will people mind? Life gets in the way sometimes, right?
I know the answers already.
My public commitment to post pushes me to keep the schedule. Integrity is important to me, and I hate breaking my word. I can move past a post that is less than perfect. But a broken streak would haunt me for a long time.
An obligation to fulfill, I start writing. But it's a struggle. The writing feels incomplete. The paragraphs ramble and the sections don't fit together. I'm not even sure if the idea worthwhile or not. How am I going to finish this?
Time keeps passing. My deadline draws nearer. Stress builds.
I have to write. I have to complete a post. I have to put up something.
***
Let not art arise from obligation
Which leads you down paths of frustration
But from thanksgiving drive your creation
But I don't have to create. I get to. I get to tell stories. I get to work. I get to serve others. All of it is a gift.
It's a gift that I discovered writing and storytelling in the first place. Until a few years ago, writing was an activity I only did when forced to.
It's a gift that you read what I have to say. You offer me your time and attention. You give me the opportunity to inspire you.
It's a gift that I witness so many stories – that so many interesting people pass through my life.
It's a gift that I am alive.
There are many metrics for worthwhile work, but gratitude is one one I keep coming back to. Am I grateful to be doing what I'm doing? Am I grateful for the gifts I've received? Am I creating out of that gratitude?
***
If every of part your work said thank you
If those simple words wove through all you do
To your heart your creation would be true
Gratitude elevates your creation.
It excites and engages you with what you're doing. You put in the time. You work hard.
It gives you the courage to push through the difficulty. You see your work is worth doing, and you do it.
It inspires generosity. You strive to give as much as you can. You connect your work to the people you serve – making it useful to them.
It adds humanity to your work. You magnify your values. You speak from who you are.
I can't think of any successful pieces of writing on the Bright Army that I didn't write from a mindset of gratitude. When I wrote the story of my grandfather's legacy, I was thankful for the impact he had on my life. I was thankful for the chance to share his wisdom with you. As I write this post, I'm grateful for the kind words people have said about my writing.
Creation is probably different for you than for me. Maybe you compose a song, make a photograph, or paint a portrait. Perhaps you build a relationship, grow a community, or organize a conference. Or you may set up a spreadsheet, solve an equation, or code a computer program. No matter the type of creation, it's a chance to be a blessing.
***
At times it's rather easy to loose track
When struck by obligation's strong attack
And focus only on the things you lack
The next time you struggle to create, return to gratitude. Remember you get to do that work.
Here are a few practices I find helpful:
Reflect on the reasons for the work. Why are you doing it? Who are you serving? How? Note: If you struggle to answer those questions, reconsider what you're doing.
Read through or recall nice things people have said about your work.
Write down, with pen and paper, one thing you're thankful for.
Tell a friend what you enjoy about your work.
And when you have reestablished your gratitude, return to your creating.
***
I'm curious. What work do you get to do? How does it make you grateful?
###
PHOTO: Let gratitude illuminate your work. Lokichoggio, Kenya.
PS: In case you missed it, this month's mission is about seeing people. I look forward to hearing what you learned.