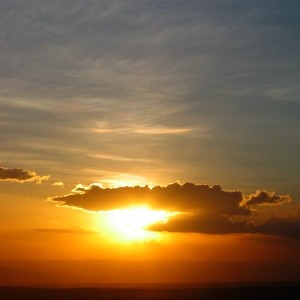 There are times in life where you think that you are fully prepared for what is to come. Then it comes, and it is beyond what you expect or imagine. So it was with the passing of my grandfather.
I saw his decline over the last several years – as disease took his strength. I watched his transition from walking to walker, from walker to wheelchair, and from wheelchair to bed. I knew his death was coming.
I visited him one last time over Christmas break. Knowing that his health was declining, my dad, my wife, and I went to his apartment. While there, we told stories of what he meant to us. My voice quivered as I told my story, as I told him I loved him, as I said goodbye.
I heard from my parents about how his health had gotten even worse, how his death was surely only moments away.
I wrote a story in memory of him. It was a tribute to the lives he's affected – mine included. A few of you commented that the story made you cry. If so, it was a reflection of the tears that I cried while writing.
Gradually, I said goodbye. I thought I had dealt with his impending loss. I thought that when the time came, I would be ready.
When I first heard the news of his passing, my reaction seemed to validate that belief. My initial response was gratitude.
I was thankful for the timing of his passing. My parents had not yet gone back to Africa. My aunt and uncle flew in from Kenya the day before. My grandfather died in the company of those he loved and those that loved him.
I was thankful for the time he had with his family before he passed away – a time of peace and remembering. They sang songs over him. They told him stories that they remembered from his life. They offered prayers over him and our family.
I was thankful that his suffering was over.
I didn't have joy about it, but I did not feel too sad.
Then I wrote my daily poem. And it hit me.
the final petal
of the rose falls gracefully
returning to dirt
all that still remains to us
are sweet memories and tears
Perhaps it was the poem itself. Poetry tends, at least for me, to draw out emotion.
Maybe it was the music I was listening too. Song has a way of reaching into the soul. It has a way of making my heart beat to its rhythm.
It could be that I was, for the first time, sitting still. I gave myself space to process what had happened. When rushing with activity, such feelings can get pushed aside.
Either way, I couldn't hold back the grief. It was as though my previous goodbyes were forgotten. I had to face again that he was gone – this great hero of mine. And I was left with tears.
Some say that tears are a signal for weakness – that they are a sign you are not strong enough. If that is true, than you may call me weak. I'd rather be someone who cares.
***
In this time of death and sadness, I am struck by the life that lies within it.


From many far and different places
Some over land and others by the air
We join together to say our graces
And in each other's company to share
Over a span of generations
From wisest grandparent to babies young
We renew again our warm relations
And in our company we dwell among
So many wondrous stories linger here
Some tales from old and some from recent days
We tell again of those who we hold dear
And for abundant blessings give our praise
Today we give our thanks for what we've got
In joy from family we have a lot
I find life in the coming together of people. Family joins to remember – to tell stories of the man that affected us all. There is life in this family, a life that continues even though we have lost one of our members.
There is life in the community of support. People offer many words of encouragement – friends, loved ones, and others from all over the globe. They bless me.


Without the searing pain of loss and grief
Without the bitter sting of cold and death
Without the knowledge that our lives are brief
Without the sight of loved ones losing breath
Could we know the depth of being alive
Could we know the blessing of joy and love
Could we know the way to grow and thrive
Could we know the gift from heaven above
Do the sharp thorns give the rose its beauty
Do the cloudy skies make the sunlight sweet
Do the shadows reveal the light you see
Do the chilly winds show the fire's heat
Can you choose just to have the good alone
Or is it by their contrast that they're known
I find life in remembering that it is sorrows and hardship that makes joy so much sweeter.
So much of life is relative. What I see as good is defined in relation to what I experience as painful. And in the view of loss, what I have becomes all the more valuable.


Descending from the cloudy skies above
Falls a pretty little snowflake lightly
A floating spec of white as purest dove
Moving in the breeze ever so slightly
It comes to rest upon your fingertip
Giving you pause to take a closer gaze
That magic fluff of patterns intricate
Adding a bit of beauty to your days
But soon the temperature begins to rise
And your life vanishes with just a trace
And all that you are comes to its demise
Melting into the sands of time and space
Live your life in view of the coming end
May you today be beauty for your friend
I find life in remembering how precious our time is.
In times of death – especially of one who lived a life so rich and meaningful as my grandfather – I'm drawn back to the importance of living well. I'm reminded about how important it is to live in gratitude.
The time I have here is short. But part of what makes it so short is that I don't always use it wisely. I don't notice. I don't serve. I don't create. I can, at times, go through life sleepwalking – as if I'm dead already.
So I reflect again on how I use my time. I ponder the legacy that I want to leave behind – one of service, humanity and art. I think about what is important in this life that I've been given – family and friends.


hope is like the dew
gems of life upon the grass
a new day's promise
sparkling as a baby's eyes
I find life in the coming of our child. Amid this space of sorrow, in mourning the death of my grandfather, we look forward to welcoming a tiny bundle of joy, a little baby, into the world. It is a reminder of hope. It is a reminder that even in times of death, there is life.
***
I'm not sure I'll ever truly say goodbye to my grandfather. I don't think I'll ever completely get over the fact that he is gone. But that's OK. For in remembering his death, I remember his life.
###
PHOTO: The sun sets on a hero. Kijabe, Kenya.