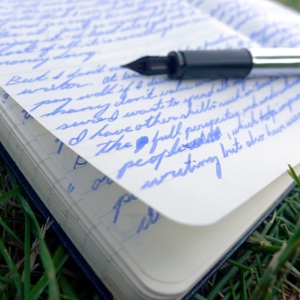 A couple years ago, I built a website. Though I knew next to nothing about web design, I was too cheap to hire someone. So I did it myself. I spent hours experimenting with layouts and color schemes. I spent days tweaking and editing the look and feel of the site. And when I was done, it looked terrible. But it was good enough to start with.
I began by posting about energy because that's what you're supposed to write about when you're in the energy business. At the time, I worked at an engineering firm designing large electric power plants. The website was an opportunity to learn about new technology and become an expert in my industry.
But as I wrote, I ran into a problem. Despite my initial goals, I wasn't interested in writing about technology. Underneath my care for energy was a care for the people affected by it. So I shifted. My writing moved toward issues of sustainability, energy access, and government policies.
That wasn't quite what I cared about either. Energy was only a subset of a broader concern for people. So I shifted again. My writing moved to discussions of valuing others and living a life of humanity.
By some measures, that site could be called a failure. I posted irregularly and changed topics every month. But the lessons I gained set the stage for my next project. When I launched the Bright Army, I knew why I was writing.
***
some threads may be black
but those challenging times are
part of the pattern
But the story of the Bright Army did not begin with that first website. It goes farther back.
Two and half years ago, I felt stuck at my job. So I filed an application for an MBA program. Another degree seemed like a decent way to move closer to the work I wanted to do. At least it might have been had I got in.
I took the rejection hard. I felt I didn't have any options left. I was lost. It took me several months to find hope again. But as difficult as that time was, I gained a lot from the experience.
Through the application I discovered the craft of writing. I labored for hours on the essays. And after all my work, I still thought they were rubbish. But for some strange reason, people told me the opposite. They were impressed with my essays.
I didn't believe them at first. I was an engineer, not a writer. Sure, I did a decent enough job at writing papers in college. Sure, I made a reasonable effort at putting together reports and studies at work. But I wasn't exceptional at it.
People kept complimenting me on my essays though. Since they couldn't all be wrong, I decided to write more. And I found it to be fun. It became a source of passion.
Facing the pain of the rejection gave me the ability to understand the hopeless. I gained an appreciation for their suffering. I felt for them. And that drove me to show them beauty and hope for life.
Not going to graduate school gave me freedom. I've had opportunities that I may not have had otherwise.
By not going to classes or doing schoolwork, I've had the time to read about and learn from great thinkers and heroes. I've had time to explore the craft of writing. I've had the time to walk outside and notice the world around me.
By not paying tuition or taking on loans, I've been able to travel to France, Slovenia, and Portland – broadening my view of the world. I was able to save enough money to to leave my job last year – giving me space to focus on what I value.
My MBA application was unsuccessful, but it was far from a failure.
***
so many threads
form the tapestry of life
weaving together
But even that is not the beginning of the story. My entire life has led me to this point. Studying engineering in college taught me how to reason and problem solve. Growing up in Kenya – and witnessing the beauty of humanity there – gave me a heart for people. I am where I am because of all the experiences I've been through.
It's amazing to look back and see it all.
***
the tapestry's top
has a different appearance
than the bottom side
As you go through life, be sure to look back every now and then. See how the choices you've made and the circumstances you've been through shape who and where you are today.
Marvel at how seemingly insignificant decisions can have unexpected and powerful impact.
Wonder at how failures and challenging situations can provide learning you would never have gained otherwise.
Appreciate how calm and peaceful times can give rest and strength for difficulties to come.
Looking back shifts your perspective. You become aware of the greater story – the marvelous tapestry that is your life. It's easy to get caught up in staring at the underside. You focus the details – the mess of threads that don't seem to weave together in any particular pattern. Reflecting on the past gives you a glimpse at the top of the tapestry. It helps you see the brilliant patterns and colors of your life.
And as you look at all that has happened – as you see how the threads weave together – you are left with gratitude.
***
the tiniest threads
can add to the tapestry
in impressive ways
The design of my website took a lot of time. But two years later, those skills provide me with a living. I now help other people by designing their websites. Besides having fun with the work itself, I get to use what I've gained to help others. I'm grateful for the opportunity.
***
What about you? What are some of the events that you look back on?
###
PHOTO: Writing and remembering.
PS: My thanks to my Uncle Scott for inspiring these reflections.